Bio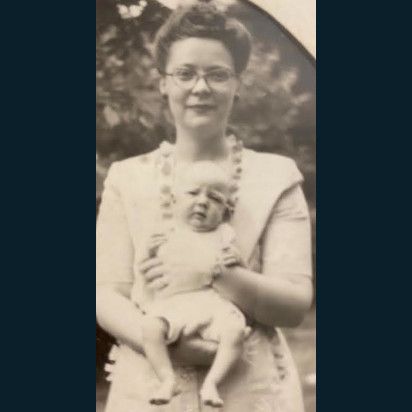 Fred Gregory Cantor
Came in kickin'...
Came in kickin' and screamin' on Christmas morning, Doctors Hospital NYC. Was born about 2 weeks late, been late ever since. Got my first guitar around ten years old. Dad played violin so he made me take classical lessons and piano lessons, too ("Some day you'll thank me for this"). Listened to and played a lot of folk music - Woody, Cisco Houston, Leadbelly, Pete - but also was diggin rock 'n roll (Chuck Berry, Bo Diddley) and blues, lots of blues - Lightnin Hopkins, Muddy, Howlin Wolf, Sonny and Brownie. Dad didn't like no rock n roll so I had to sneak my little radio under the pillow at night and listen to Murray the K, Frankie Crocker, Symphony Sid. If you don't know these folks, look 'em up.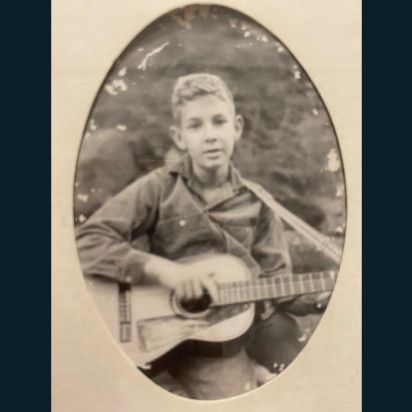 Pretty much a hell raiser rebellious teenager. Got bounced from public school for organizing against the war (Vietnam). Started hangin around Greenwich Village, the Folk Center, Gerde's Folk City, Cafe Wha, The Bitter End. Me and Jimmy used to follow Bobbie Dylan around the Village 'cause he always went to the good parties. Got an electric guitar (Guild TD100 I think) but it wasnt allowed in our house so I left it over at David's. Got sent off to boarding school in Connecticut, got bounced out of there too. Finished up at Rhodes School on 54th street. Didn't know anyone but got my HS diploma. Worked with Ronnie Gilbert on some music for the off-Broadway play "America Hurrah", played a few open mics and a couple of little gigs nobody came to downstairs at the Rafio. Saw Otis Redding live in Central Park - still the best live                                                                                                                performance I've ever seen! Bought my first car, a '57                                                                                                      Plymouth. Paid $75 bucks for it but it ran good enuf to get                                                                                              us to Jones Beach and back.
Got out of high school (what a misnomer!) and went out to California. Tried LA but it didnt fit, although I enjoyed riding around the desert on my Matchless motorcycle and cruising the canyons in a bugeye Sprite. Made some music with Donna Carson (Hedge & Donna) but other than that LA was a bust for me. Went back to NY for a minute, Moved to SF during the Summer of Love and it became Home. Got married to Diane. Played a bunch of solo coffee house gigs, hung out with some of the guys who were playin in bands with big time stars, started hanging out in studios (Wally Heider, PHR, Pacifica, Record Plant) and learned how to make records from cats like Fred Catero and David Rubinson. Blues jams at Peri's in Fairfax w Mark Naftalin, Elvin Bishop, Nick Gravenities, Norton Buffalo. Worked at a few TV stations, hooked up with Marty and started Uranus Productions. Began throwing parties at Bimbos                                                                                 365 Club and producing local bands and artists. Good times!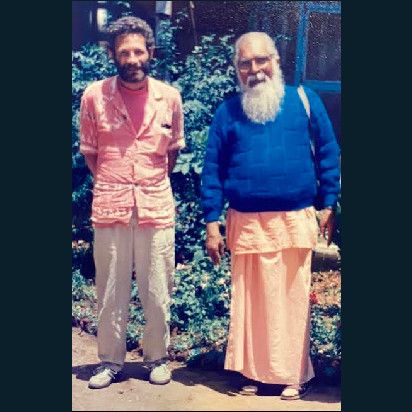 Got divorced from Diane. Moved up to Portland Oregon (goin up the country!) Started playin around, joined a few bands and started teaching at the Oregon School of Music and Dance. Met up with a guy from India named Nitya Chaitanya Yati who changed my life and I became part of the gurukula (family of the guru). Started learning about Brahmavidya (the science of the Absolute) and naada yoga (the yoga of sound & vibration). Went over to India and got thrown into the deep pool of Karnatic music. Came back, got married to Cynthia. Made some more records and produced a couple of TV shows. Opened a little record store in Lake Oswego, got busted for selling paraphernalia. ACLU got me off. Lost our baby, got divorced, got sober, got clean and started another production company Independent Media                                                                                                            Productions and my own band "Zama". Played and toured                                                                                              with Robbie Kaye, Julie Larsen, Nico Wind, Zero Dinero                                                                                                    and others. Lived out in the country with Scott, Deb, JB                                                                                                  and Sierra.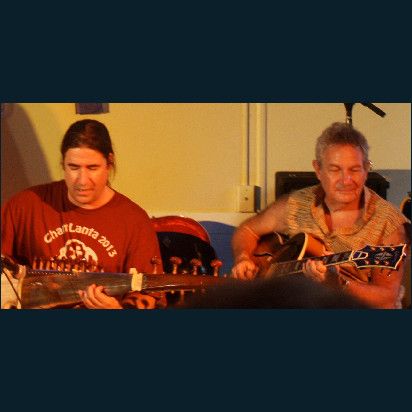 Moved to Florida and got involved in the yoga and kirtan scene. Met Wynne Paris and began playin kirtans and festivals with him, right up until he died. Also played with many other kirtan wallahs - Girish, David Newman, Dana Kaplan, Jim Beckwith, Mirabai, etc. Been playing live music for yoga classes, doing festivals and broadening my naada yoga practice. Started studying with Nandkishor Muley and released a couple of records of yoga music "Gathering" and "Awakening". Also been teaching and doing various gigs here and there. Got some of my music featured on "All Songs Considered" on NPR. Still writing, recording, teaching and playing. Trying to keep the vibration levels as high as possible!